January 7, 2019 – Real Leaders, Big Path Capital, and B Lab have teamed up to score and rank the "100 Top Impact Companies" of 2019. We are proud to announce that Vera Solutions has been named to the inaugural list, alongside other impact-first companies like Bridges Fund Management, Network for Good, Vital Farms, and CleanChoice Energy.
"We were very impressed with the quality of applicants who were subjected to a rigorous review process for this first-ever 100 Top Impact Companies awards," said Mark Van Ness, Founder, Real Leaders.
The list recognizes 100 companies in North America using business as a force for good. The ranking is derived from the formula for force (mass times acceleration). The RL100 uses a company's revenue, growth, and B Impact Score to calculate its 'force for good'.
Three-year growth rate (acceleration) x Revenue (mass) x B Impact assessment score = A Company's Force for Good score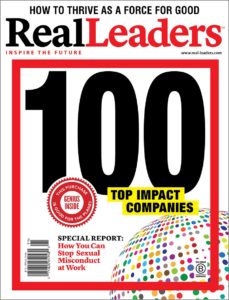 "The Real Leaders 100 list is the first ranking of positive impact companies in North America," says Michael Whelchel, Managing Partner at Big Path Capital. "These companies are driving a dynamic segment of the economy, bearing a new vision of capitalism that demonstrates that every transaction is an opportunity for both growth and a better world."
Vera Solutions was founded in 2010 with the aim to change the status quo for nonprofit data management, using powerful, cost-effective technologies. Entering its eighth year as a Certified B Corporation, Vera is committed to upholding the highest standards for social and environmental performance and has been named to B Lab's 'Best For the World' list for the past two years.
"Today's world demands that companies and nonprofits alike focus first and foremost on long-term impact over short-term income," says Co-founder and CEO Zak Kaufman. "Vera is dedicated to help shape a social sector that is empowered by data-driven insights, by tools that save time, money, and headaches, and by technologies that make accountability effortless." To date, Vera has worked with more than 275 organizations in over 50 countries.
Vera Solutions is a global social enterprise dedicated to strengthening the social sector's engagement with data using cloud and mobile technology.
Real Leaders magazine has been in circulation since 2010 and is the world's first sustainable business and leadership publication. It aims to inspire better leaders for a better world.
Big Path Capital has been called "Impact Investing's investment bank" and works with the top sustainable and impact companies and funds.
B Lab is a nonprofit that serves a global movement of people using business as a force for good. Its vision is that one day all companies compete not only to be the best in the world, but the Best for the World® and as a result society will enjoy a more shared and durable prosperity.
Vera Honored as Best For The World for the Second Year

---

Vera Makes Environmental Commitment to Offset Our Carbon Emissions

---

The Data Dilemma: Making Measurement Matter

---

Vera Solutions Gives Back Through Values-based Employee Recognition Program